Paerdecroon Baron Borg JCAC, CAC and BOB at the international show in Groningen!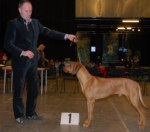 I got this great news from Holland!
This weekend Borg did his debut in youth class on the
international show in Groningen. He got his first Junior CAC and
he was best of the males so that was his first CAC and at last he beat a
champion female and became BOB!
In the group of breed he made it to the last 6 out of 20, only 3 were
placed. It was his first experience in the ring of honour with a lot of
crowd and hard music. But he entered the ring with such a proud and really
really an excellent movement, it was clear that he enjoyed it!
The judge was Mrs Horsten from Holland. She has judged the RR several times
and last year she did the examination for a new group of Ridgeback judges in
Holland.
Im so proud over you and little stunner Borg:)