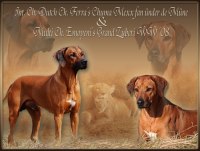 Int Dutch Champion Ferra's Chuma Mexx fan ûnder de Mûne
Born: 2003-10-17
Height 63 cm
Weight 34 kilo
HD Grad A/A
AD/OCD UA
Owner Henk And Edith Salm, Paerdecroon kennel http://www.paerdecroon.nl/
Proudly presents Lex's Dutch girlfriend!
Owners own word about Mexx:
Mexx is a very nice and charming Ridgeback. She has an outstanding friendly character. Towards strangers she is a little bit reserved, but she makes friends very quickly. Also with other dogs she is very friendly. She loves running in the woods and after that laying on the couch. We just started showing with Mexx when she was 3 years old. Nevertheless it took only 17 international shows to make her Dutch Champion and shortly after that International Champion. In between she also had her first litter with 12 puppy's. During and after her pregnancy it took 8 months before she entered the show ring again.
Most critics of the judges are: Well balanced dog, typical feminine head with good ear set and nice dark eyes. Very nice topline, very good "cat" feet and ridge. Excellent angulations, good front and a deep chest. Very good mover. Nice character in the show ring. Mexx is born at kennel Fan under Mûne is the north of Holland. This kennel is well-known for breeding Ridgebacks with friendly characters. Mexx has had one litter herself. There were 12 puppy's (6 males, 6 females). No DS, kink tails or ridge less. 4 pups had an extra crown.
Mexx födde den 3/4-09 10 valpar, 3 tikar och 7 hanar. 1 korrekt hane var dödfödd. 7 helt korrekta, 1 ridgelös hane och en tik med en liten kroksvans.