Ghali Grand Cinamon new Lativan and Baltic Junior champion!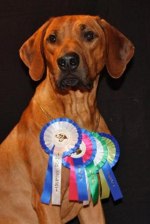 Ghali Grand Cinamon "Vilho" keeps on rocking the rings!
At the all breed show in Valmiera, Latvia at Vilho´s 15 months celebration, he gained the following results!
BOB Junior with HP (Honours prize) Junior CAC, BOB and BIG-5!
Lativan and Baltic Junior Champion!
He has now the following titles, Estonian Junior Champion, Lithuanian Junior Champion, Latvian and Baltic Junior Champion!
We are so rpoud over you!