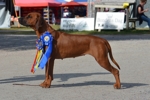 VAKK´s nationella utställning i Backamo 20130824
Domare:Göran Bodegård och gruppdomare Svein Helgesen
Resultat: BIR, CERT och BIG-2
Kritik: Vacker tik av utm. storlek. Visad i bra kondition. Utm. huvud, ögon och uttryck. Snygg överlinje. Väl tillbakalagd front. Ngt kort överarm. Härlig bröstkorg. Utm. bakställ. Blank vacker päls. Rastypiska rörelser utan inödig luftighet. Hög kvalitet!
Gysinge BISS-2012 SRRS 20120714 BIM valp
Domare:Filiberto Arniella
Resultat: BIM valp
Kritik: Lovely head, very promising puppy. I like her rear and front angulation and her topline. Moves quite well.