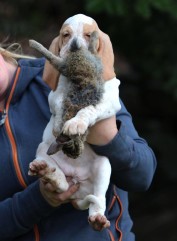 Född 2017-10-17
Mankhöjd:Pending
Vikt: Pending
Höfter:TBA
Armbågar:TBA
Eftersöksgrenar UKL 10
Godkänt anlagsprov i viltspår
-BIR-valp och BEST IN SHOW på Nordic Dog Show i Vänersborg
-BIR-valp och BEST IN SHOW på Nationell utställning i Borås
Kvalificerad till Puppy of the year 2019
-BIR BIG BIS2 Inofficiell utställning Sätila
-BIR BIG BIS3 inofficiell utställning Floby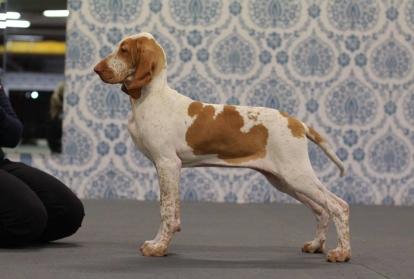 Matte Helenas besrkrivning av Rey:
Rey är en aktiv tjej och en "gla' skit". Hon är yngst i en flock som annars består av tre storasystrar, braccon Leelo och afghanhundarna Zoria och Kali. Hon är språksäker och hon är mycket social och glad i människor.
Rey älskar att träna och gör det med hög intensitet och stort engagemang. Hon har också en hel del åsikter vilka hon tydligt uttrycker. Hon har fått prova på lite jaktträning och vaknade till liv rejält så förhoppningen är att hon ska nå ett jaktchampionat så småningom.
Planen är att ge Rey ett lika aktivt liv som Leelo lever, vilket utöver jakten innebär att få visa framtassarna inom tävlingslydnad, freestyle, rallylydnad, agility och viltspår. Hon kommer också lämplighetstestas av Svenska Terapihundskolan då hon fyllt ett år. Klarar hon testet kommer hon utbildas till besöks- och terapihund och få arbeta i en LSS-verksamhet tillsammans med Helena.