Särskilt prov (fält) 19-20/9!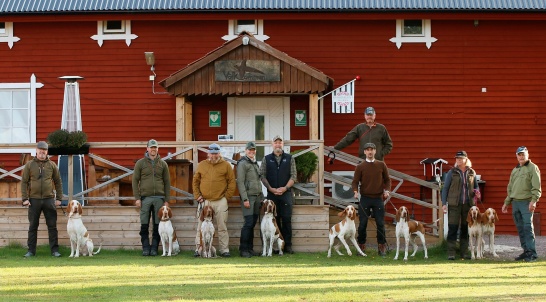 I helgen arrangerade vi ett särskilt prov på Långtora. Och på provet deltog hela 8 hundar (varav 6 debuterade på fält) från oss vilket är fantastiskt roligt. På lördagen hade vi även sällskap av ett gäng valpköpare som ännu inte startat men som vill vara med där att få en bild av hur våra prov går till. Endast en hund fick till till fåglarna och alla delar under helgen och det var SEVCH SEUCH J Royalty Rocks Kozmic Blues "Gunde" som gick till pris både lördag och söndag. Stort grattis från oss!
Tack alla för att ni är med och provar era hundar på jaktprov, är ofantligt stolt över er alla <3.
Deltog på provet gjorde:
Royalty Rocks Cox Tribute to Guida
SEVCH Royalty Rocks Pollux
SEVCH Royalty Rocks Jawa
SEVCH J Royalty Rocks Hope
SEVCH SEUCH J Royalty Rocks Kozmic Blues
Royalty Rocks Sirius
SEVCH Royalty Rocks Jinn
Royalty Rocks Kiva Tribute to Guida
Tusen tack också till domare Anders Beskow och provledare Bertel Nordell för att ni ställer upp.
Och tack Pernilla Johansson för alla fina foton.
Ni hittar fler foton frånb provet här!